FOOD YOU CRAVE
EVENTS YOU LOVE
Our mission is to bring more awareness and exposure
to the mobile food and event industry to support
local and small business owners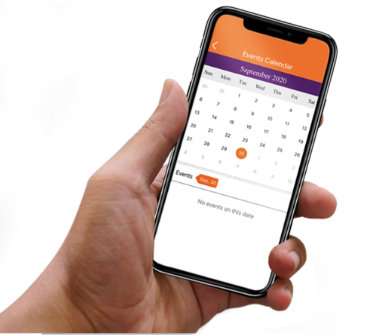 BOOST YOUR MARKETING WITH THE ONLY PLATFORM DEDICATED TO
YOUR INDUSTRY
You've got a food truck and a few followers on your social media but you're struggling to consistently promote your brand to potential customers.

Using a tech platform can be daunting, confusing and downright scary, but using Snack Tracker to grow your business can be simple. With the right guidance and education on how to navigate this user friendly app, consistent support and motivated consumers looking for businesses just like yours, you will feel confident about your marketing strategy for your business. Imagine being a part of a community of people who want to track you down and buy your products!

When you become a part of the Snack Tracker community, you will receive your own profile on an Apple and Android app, packed full of features to help promote your brand and allow our loyal consumers to find you, and more importantly, to BUY from you!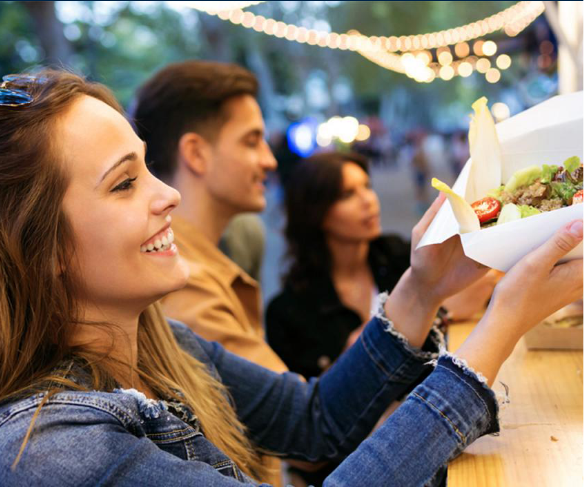 JOIN THE SNACK TRACKER MEMBERSHIP
REGISTER HERE FOR JUST $50 FOR THE FIRST SIX MONTHS!*
REGISTER HERE!
As a valued member of Snack Tracker,
you'll have exclusive access to
Our SIGNATURE feature – LIVE GPS TRACKING!
Did you know, only 8% of your followers see your organic content when you post on social media? Take the hassle out of typing your location every day and hoping they see, by using our live tracking system, allowing our customers to track you to your EXACT location when you're trading! Our 'Open' trucks are shown first on the list to customers, so the more you use the platform, the more exposure you get!
Your own dashboard, where all details are entered, including logos, contact number and clickable links, an About Us section, and any other information you want your customers to see
Online Store Capability – we've included a link box in the app so our consumers have direct access to your online store*
Favourite Truck Feature (consumers can save your business to receive a notification at the exact moment you're open)*
Snack Tracker Truck App – our Vendor App where our vendors control their visibility on the app*
A daily notification, connected to a timer, allowing automatic GPS activation*
Markets & Events Calendar – visible on the app for our customers in ascending order of that which is closest to the customer, to furthest away. Packed with all the info you need for the event, truck availability with access to registered trucks homepages, ticket details, clickable links, and of course, a live GPS tracker!
Our closed Facebook group, Snack Tracker Tribe, to connect with your community
Tech guidance and step by step education to learn the platform
Social media promotion – tag us in anything you want shared and we'll share it to our community
By joining Snack Tracker, you'll feel more confident in knowing you have a community behind you, working FOR you.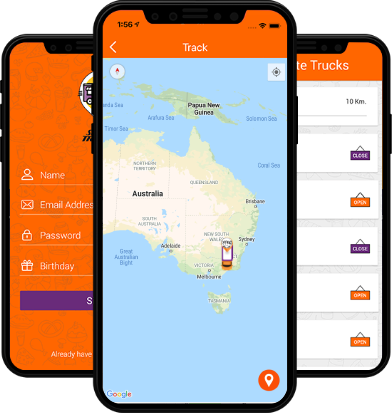 Here's how it works
Once you register and your business is approved, you'll receive a welcome email from Snack Tracker containing a link to your dashboard.
Purchase your membership, input all your details for the customer app.
Download Snack Tracker Truck (Vendor App – DIFFERENT TO CUSTOMER APP) and log in using the login details provided in your email (don't forget to check the Junk folder!) and "Open" your business so the app can read your location. This step is IMPORTANT as it connect everything so your business can be seen on the customer app, Snack Tracker*
Make sure you stay logged in to Snack Tracker Truck AND allow notifications for this in Settings, unless prompted by notification. Each morning, you will receive a notification from Snack Tracker Truck, connected to a timer for you to set your work hours, allowing automatic GPS activation. Every Friday and Saturday, you will receive a reminder at 5pm to open for evening trade.*

*excluding event organisers
Are you ready to join for just $50 for the first six months?
JOIN NOW
Doesn't it make sense to promote your event to customers who are actively looking for you?
Due to high demand from organizers wanting their own platform to market their events, we created our very own events calendar. We felt it was important for customers to have a central location to find local events, live. Our calendar is packed with clickable links and 'need to know' info for each event.
Our memberships range from a "One Off Event", 6 Months & 12 months. With the exception of the One Off Event membership, our packages allow you to upload an unlimited amount of events!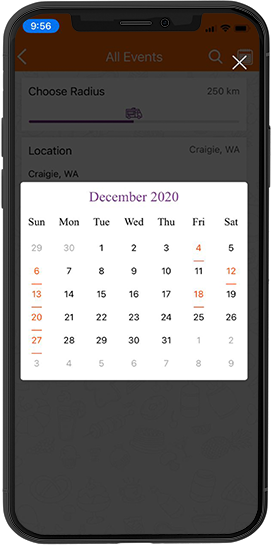 the organisers
Testimonials
Excellent service & support!!
As an industry leader in FOH event catering and a Food Truck consultant to major events, festivals, sporting and community events across Western Australia, I see this new app as a fantastic platform to showcase and locate your favourite Street Food and Food Trucks. With over 28 years in the industry, I've learned that change and innovation are the keys to success. Snack Tracker is just this, a click of a button, and you can locate your nearest Food Truck or Pop Up Food Truck event. I highly recommend this WA owned and operated business that supports small businesses and community family events
Nice work! Keep it up
Snack Tracker is rapidly developing a great following, from vendors to the all important customer. It's just fantastic to read how a great idea, loads of enthusiasm, hard work, business nous and an awesome product, help deliver a real business success.
Great support!!
It just makes sense to me. It cuts down the man hours needed to post rosters and doubles up on the exposure
Best coding quality
We've had two customers come from the app after only being a member for a week
Excellent service & support!!
GENIUS!! Snack Tracker is the app I've been waiting for! The online store is a game changer 🙌 As a foodie, this is going to be the most used app on my phone
Easy documentation, Thanks!
Francie is brilliant! I highly recommend working with her!
Excellent service & support!!
Awesome! I've always wished I could track down Mr Whippy! LOVE LOVE LOVE
Excellent service & support!!
A customer just came to the event because she saw me open on Snack Tracker.
Excellent service & support!!
We are growing everyday but as of October 2020, we have approximately 25,000 in our loyal community of social media followers and consumers who have downloaded the app.
The average app is usually deleted off a consumer's phone by Day 30 after downloading if unused and we are EXTREMELY PLEASED to see our retention and usage numbers are still running high at 87% by Day 30!
Unfortunately not, but we do have an introductory special for new members, for just $50 for the first SIX months which works out to be just 27 cents per day!
Yes! Just jump into your dashboard where you can cancel anytime! Your membership will automatically rollover unless you do this.
ABOUT SNACK TRACKER
Snack Tracker was founded in 2017 after discovering a need for the mobile food and event industry to have their own platform to promote their businesses through. It is a mobile app designed to provide exposure to mobile food vendors and event organizer. Alongside many features designed for maximum exposure, it's signature function is a live GPS system, allowing live tracking when vendors or events are open to trade.

Snack Tracker's creator, Francie Jones, is a local Perth Mum, passionate about supporting local and small businesses. It was during a fruitless wait for Mr Whippy when the idea of Snack Tracker was conceived. Overnight, this idea turned to food trucks and within a few days, she was down at a local event doing market research with food vendors. With a hugely positive response towards a new and innovative marketing platform, she quickly devised a plan to start the creation of a mobile app, available free to download for consumers. With a huge amount of testing, trial and error with different features, maintenance, consistent social media presence and pivoting during a global crisis, Snack Tracker is gaining more popularity daily. With memberships in 4 states, Snack Tracker is rapidly working towards it's goal of becoming a national household name by 2025.